Social Feeds
Facebook
Extant works, upcoming projects, work in progress. Constant updates and resources. Chat and comment.
Simon Turney Author aka SJATurney
1 month ago
"Fronto moved off to the gentle slope of the river's right bank and fell into position there with two undermanned centuries. The army may now all be here, but each legion was still short of manpower. The three units defending the dam would each number a hundred and sixty men on parchment, but in reality they would be lucky to number a hundred and twenty. Fronto fell in between the two centurions, sword out and ready. The two men gave him a polite but disapproving look, unhappy at the presence of a senior officer at the front. He glanced over to the left and could see Galronus in a similar position on the left bank and Salvius Cursor slightly out front at the centre, almost vibrating with the need to plant his blade in something."
Marius' Mules XI: Tides of War. 26th July in various formats. Pre-order the kindle version now:
https://www.amazon.co.uk/dp/B07F8PZ9V4/
Marius' Mules XI: Tides of War
It is 48 BC and Caesar is master of Rome, but Pompey is at large in the huge recruiting grounds of the east with a core of powerful officers, nominally representing the senate in absentia. As the general deals with matters in the city his army gathers at the coast, waiting to cross the sea and fi...
Follow on Facebook
Twitter
4 days ago
Tagged by @KateQuinnAuthor quote the 1st line of current #WIP

"Arnau de Vallbona stood at the rail of the ship, eyes locked on their destination which was currently little more than a grey smudge, though coming closer with every passing minute."

#TheLastEmir

Tag @GordonDoherty
6 days ago
The last Valerius novel. Close to tears just thinking about it... https://t.co/V3S59EvPsE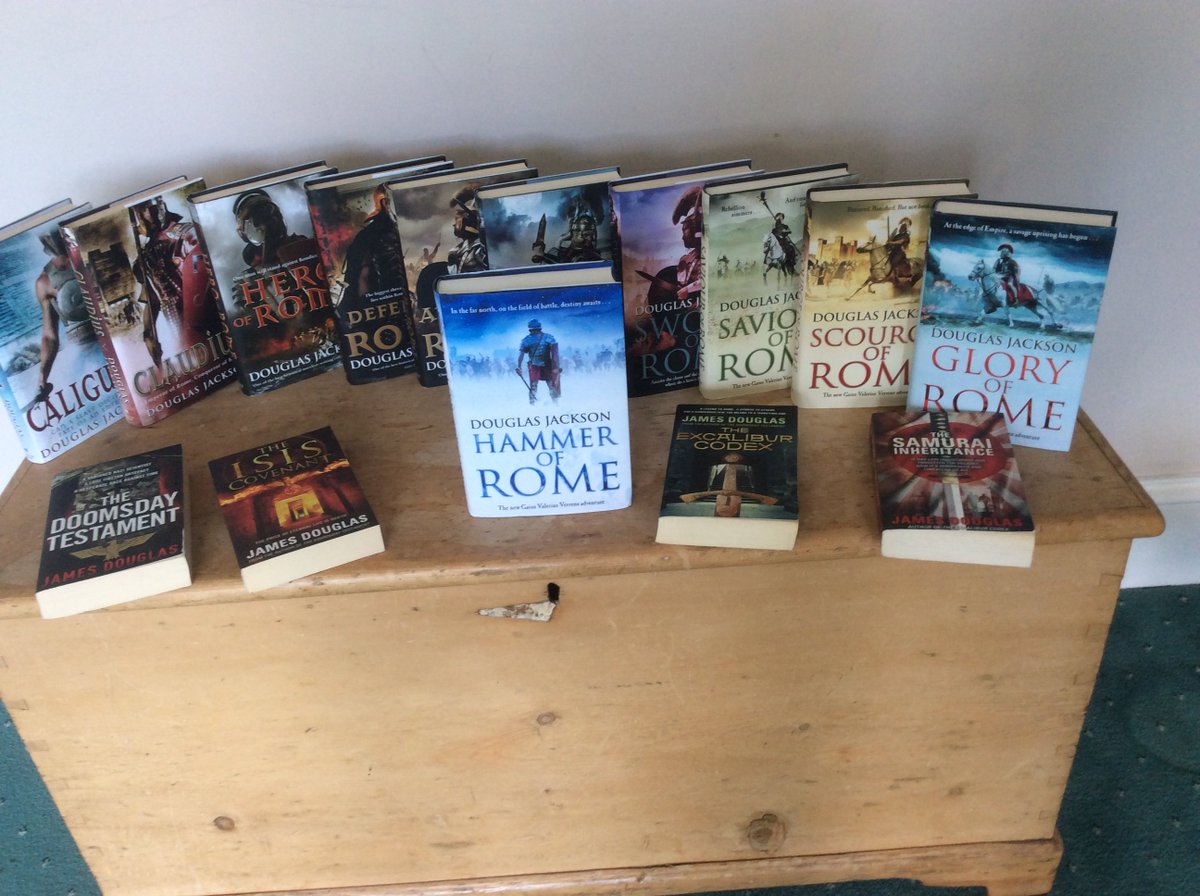 Douglas Jackson
@Dougwriter
First copy of Hammer of Rome just arrived. The ninth and final book in the Valerius series and it looks like a great addition to the collection!
'Hard to put down' - 'Brilliant' - 'Can't wait for the next instalment!'
https://t.co/RNISDl4qiS
7 days ago
Happy publication day to Manda Scott. A TREACHERY OF SPIES is out today. Go buy it, you lucky, lucky people, and check out my review of it here: https://t.co/Db4lEnje02
Follow on Twitter